Visiting Japanese Fur Aski at the Singapore Merlion
|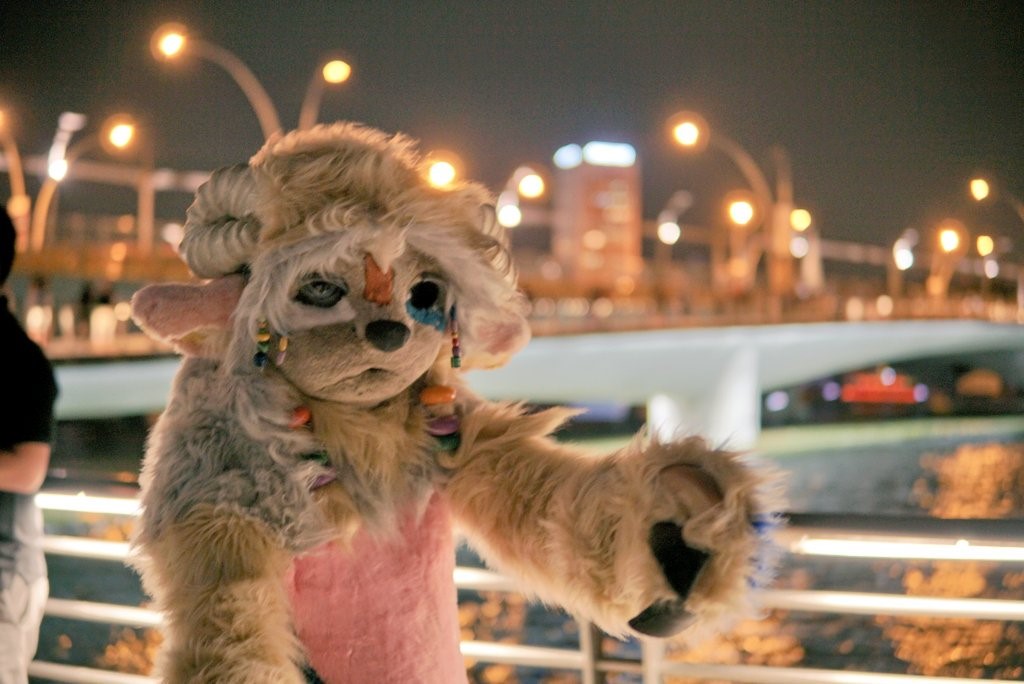 Aski-san (@openaskilagai) is a shota kemo fursuiter (the Japanese equivalent for anthropomorphic furry animal) and fursuit maker based in Japan. He is a long-time friend of the SGfurs, having longed to re-visit Singapore since his last visit to our sunny island almost 2 years ago, where we SGfurs hosted him and his visiting group of Japanese furs for sightseeing and furry meet-ups in Singapore. Aski had also kindly hosted us Singapore furry counterparts during our time in Tokyo Japan earlier this year for JMoF 2017.
And boy was he delighted. Aski is a very friendly Japanese fur who travels the world at his own time, documenting his travels this partial fursuit. This August, he made a stopover in Singapore after a tour around the South East Asia region.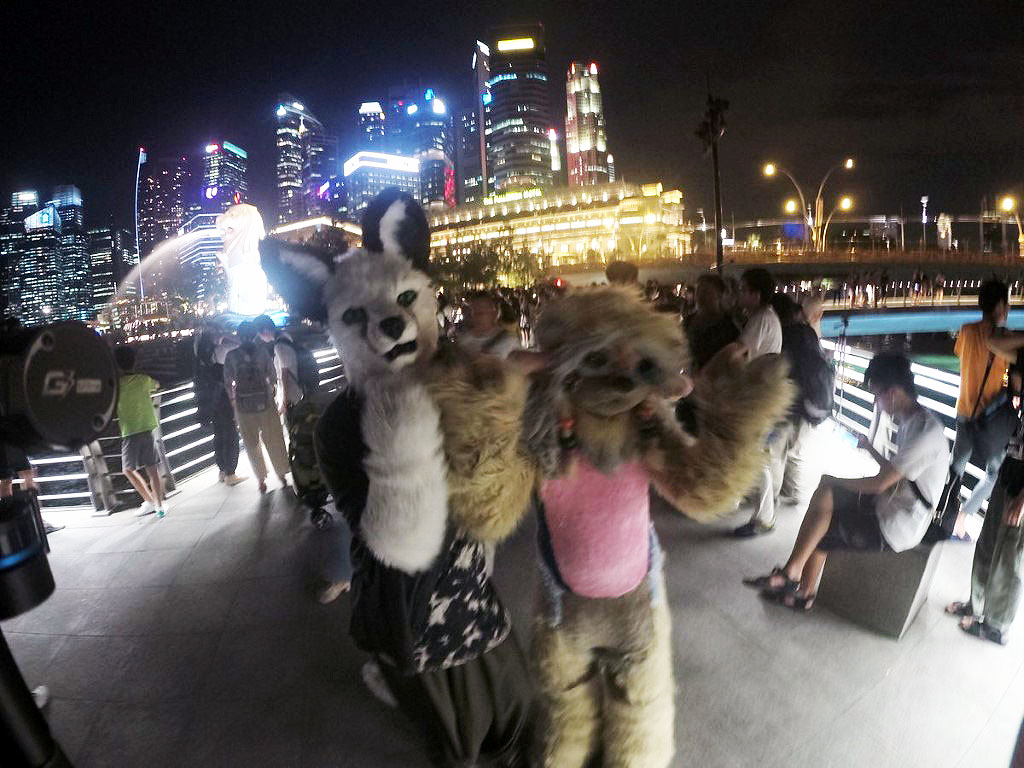 During his stay here on our little red dot, he caught up with a number of SGfurs he longed to meet after a period of absence, with the group hosting and showing him around the Singapore Marina Bay area. He was delighted to spend his time here in Singapore, also being spoilt for food choices downtown and sightseeing places, such as Singapore's very own iconic Merlion and the jubilee Bridge by the Marina Bay reservoir.
And what is no other better way to showcase your stay in Singapore than a day at the Merlion, one of his must see will be iconic landmarks in Singapore!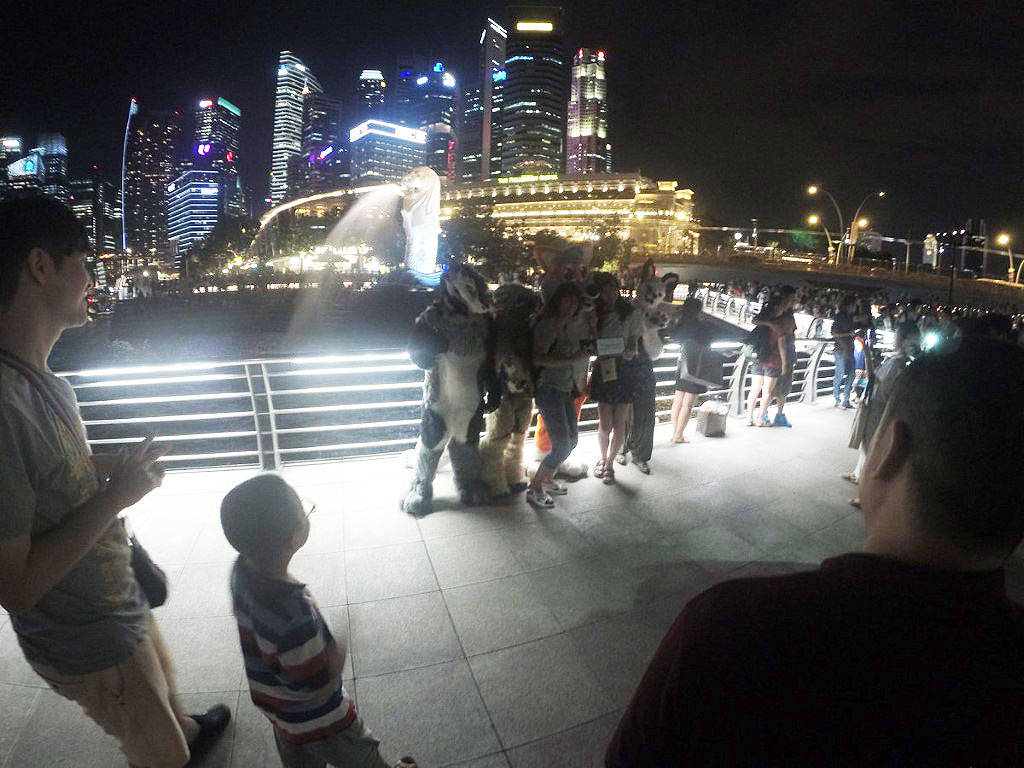 A number of SGfurs were around the support and grace the occasion too, we had Kai the Folf (@KaiAuroline), Vee (@veemaster) the fox and Bravewolf (@BraveWolf1984), just to name afew, in fursuit to join in the festiveness. We were also honored to have Thai Fur, @PolarTheLion, our media guro known for his coverage of JMoF and Infurnity to join us for the event too.
The presence of the international group of fuzzies at the Marina Bay Fullerton area was much to the delight of visitors and tourists, who were surprised at the attendance of our furry performers at the Singapore Merlion attraction that night.
Wow, were our fursuiters swarmed the tourists for photos in front of the Singapore Marina Bay City skyline. The weather that night was great and the surroundings well lit with the Singapore skyline in the surrounding background, a perfect setting for photos in one of the best photogenic spots in Singapore.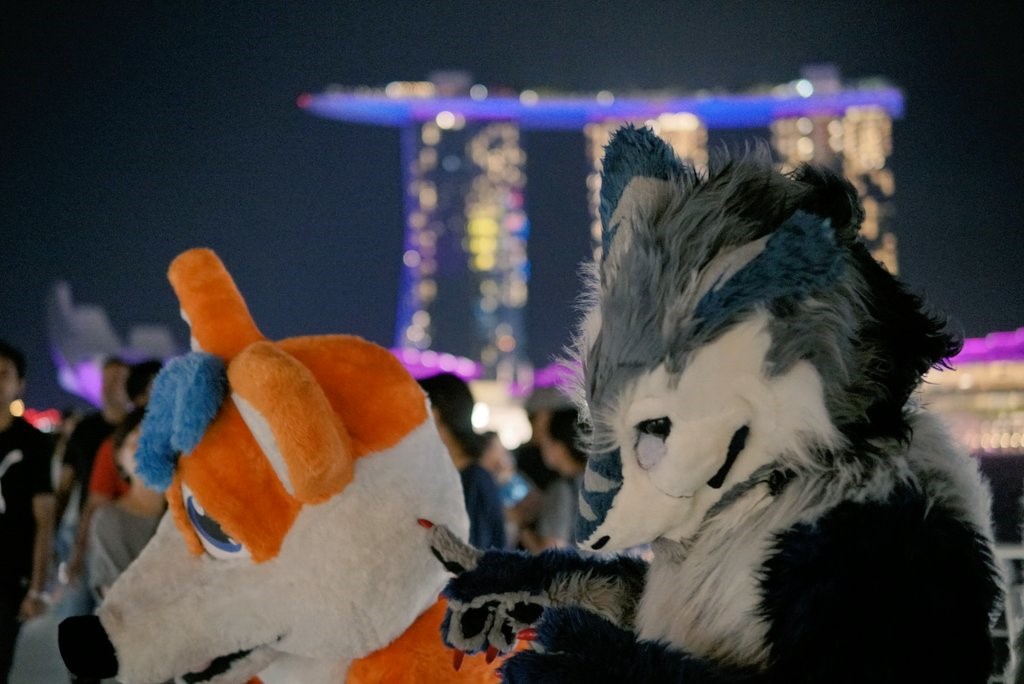 Being full of energy, even the warm and humid Singapore weather didn't put a dent on Aski energy levels in his fursuit. Our EDM crazy Japanese Fur stayed by the Marina Bay area to catch and soak up the beautiful sights of the Singapore central business district, which forms part of the Singapore financial downtown bay area.
These sights were complimented with the National Day decorations and festivities littered all around town, begin setup for Singapore's 52nd National day parade happening around the corner.
Many thanks to our resident SGfur Malvin who helped in the coordination, fursuit logistics and being the point of liaison for Aski's Singapore visit, you rock!
Photo credit: Thanks to @PolarTheLion and @BraveWolf1984 for the photos.